Upcoming Events
Science in Design Summit – Virtual
9:00 AM - 4:00 PM
This event is being held virtual and all registered attendees will receive
recordings of all the presentations.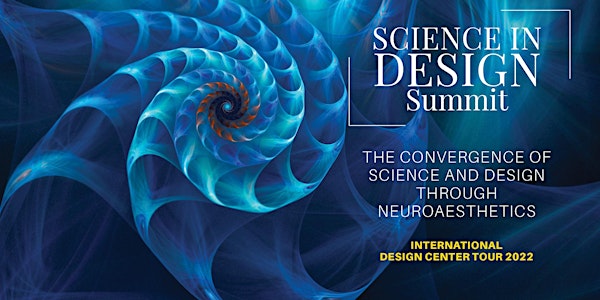 "Architects and designers have a greater ability to improve public health than medical professionals" – Dr. Claudia Miller, U of Texas
The convergence of science and design – "neuroaesthetics" is changing the future of the architect and interior design industry.  Scientists and medical professionals at leading institutions such as Johns Hopkins University, the Mayo Clinic, the University of Texas, Boston Architectural
College and more, now document the health benefits of fine design.
Now for the first time, residential architects and design professionals are realizing that they too bring health benefits to their clients through beauty and fine design.
The Science in Design Summit is a series of educational events bringing cutting edge scientific information to the architect and design sector. Some of the many highlights will be evidenced based presentations around Neuroaesthetics, Biophilia, Human-Centric Design, Impact of Color and Cognitive Architecture, and how all of these positively impact health in design.
Science is leading the way to helping the architect and design industry better understand its ability to improve health, not just in the healthcare and work environments but in our residential spaces as well.
AGENDA:
8:45AM:
Opening Remarks
9:00AM:
The Science in Design with Mike Peterson
The NEED for beauty and design is encoded in our DNA; Health benefits of fine design; New wearable technology; Marketing your ability to improve health
10:00AM:
Designing for the Subliminal Brain: Architecture and Design + the 21st Century Paradigm Shift with Ann Sussman, AIA, Professor Boston School of Architecture
Learn about the design shift of the last 100 years; the Age of Biology; Eye-tracking that guides design
11:00AM:
Biophilia: The Human NEED for Nature with Mike Peterson We ARE nature. The healing benefits of biophilic design, multiple scientific and medical studies, The power of fractal beauty, applying biophilic design.
12:00PM:
Lunch Break
1:00PM:
Beauty, Neuroscience and Architecture: How Classic Patterns Align with Beauty to Improve Health with Don Ruggles, AIA Architect, Author Learn the historic influences of classic patterns; Facial patterning; Why and how beauty heals; Nine square design
2:00PM:
New Technologies, Clean Air, Acoustic Comfort, with Michael D. Ham, WELL AP Faculty
Explore the intersection of design innovation and technology; human centric lighting, acoustic comfort, technology and universal design
3:00PM:
The Human Color Experience by Benjamin Moore
Discover the physical and emotional responses to color that shape our color preferences. Learn how the eye and brain process color
4:00PM:
Closing Remarks