Upcoming Events
Rebuild Ukraine Conference
8:00 AM - 7:00 PM
The Omni King Edward Hotel (37 King St E, Toronto, ON M5C 1E9)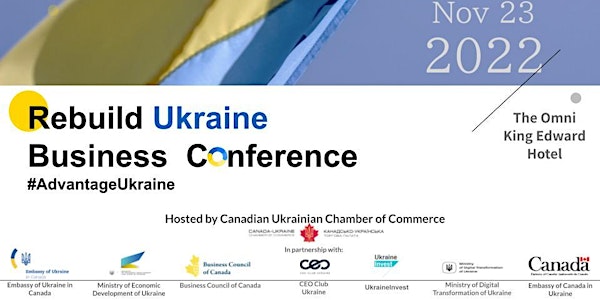 The Canada-Ukraine Chamber of Commerce in partnership with the
Business Council of Canada (BCC), Embassy of Ukraine in Canada, Embassy of
Canada in Ukraine and the Ministry of Economic Development and Trade in
Ukraine invite you to the Rebuild Ukraine Business Conference on November
23rd, 2022, at the Omni King Edward Hotel in Toronto.
   The Rebuild Ukraine Business Conference will showcase investment projects
aimed at rebuilding and modernizing Ukraine in the agriculture, energy,
construction/infrastructure, and digital sectors. It will also highlight the
tools and instruments offered by Export Development Canada, European Bank
for Reconstruction and Development, World Bank, and International Finance
Corporation to support Canadian companies interested in investing in
Ukraine.
   Conversations about rebuilding Ukraine have already started in Europe and
the U.S. The time is ripe to start these conversations in Canada to give
Canadian businesses the opportunity to be a part of the rebuilding process
and to help Ukraine fight on the economic front.
In Partnership with:
Embassy of Ukraine in Canada
Business Council of Canada
Ukraine Invest
Ministry of Economic Development and Trade of Ukraine
Ministry of Digital Transformation of Ukraine
CEO Club Ukraine
Embassy of Canada