Upcoming Events
RAIC | A Celebration of the Accessibility Acts of Canada and the US
1:00 PM - 2:00 PM
Online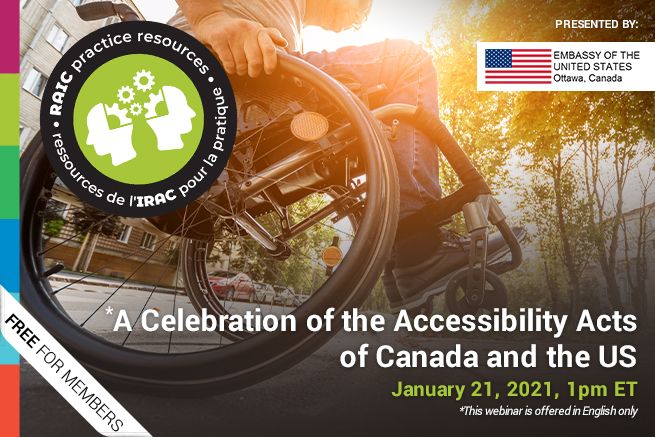 In celebration of the first anniversary of the Accessible Canada Act and the 30th Anniversary of the Americans with Disabilities Act, the RAIC and the U.S. Embassy are coming together to present a one-hour discussion on the similarities, differences, challenges, and opportunities that these two national acts pose for architects, and those they are designing for.
Canadian architect Annie Boivin and American architect Karen L. Braitmayer will present their experiences and insights on designing functional, accessible, barrier-free environments that are inclusive for all users. Host Thea Kurdi will also address the landmark legislation in both countries, the development of accessibilities codes, and the implications for the design and building industries. A moderated Q+A session will explore the similarities and differences that these two national approaches pose to accessible design.
Continuing education learning hours: 1 credit
Live closed captioning will be provided for this event.
LEARNING OBJECTIVES:
At the conclusion of this session, participants will be able to:
Compare the similarities and differences between the ADA and ACA legislation.
Discuss the impacts of the Accessible Canada Act and the American's with Disabilities Act on the built environment.
Familiarity with the diversity within accessibility and the size of the disabled population in the US and Canada.
Identify some of the gaps in legislation to improve best practices of accessible design in the industry.
Registration closes on Wednesday, January 20, 2020 at 4:00 p.m.
 PRICE:
This session is free for Regular RAIC Members.
The cost for Interns and Retired RAIC Members is $5.00, plus applicable taxes.
The cost for non-members is $10.00, plus applicable taxes.