Upcoming Events
Mass Timber Revolution
6:00 PM - 8:00 PM EDT
Bergeron Centre for Engineering Excellence 11 Arboretum Lane Toronto, ON M3J 2S5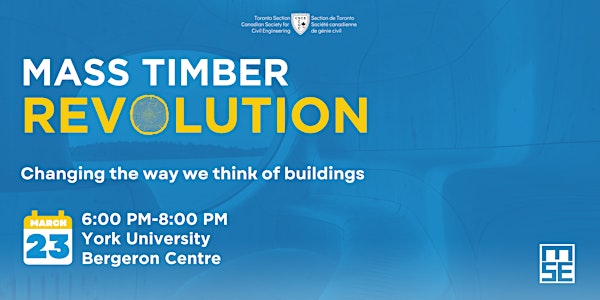 Wood buildings were traditionally limited to 4-storeys by Canadian building codes. The limit for timber construction was increased in 2022 to 12-storeys based on modern innovations in materials and fire engineering. Mass timber products such as glued-laminated timber and cross-laminated timber are large format elements that are pre-fabricated, CNC machined and can be installed quickly on site in almost any weather conditions. These and other innovative wood products are at the centre of a transformation in the construction industry where we expect higher quality, offsite fabrication along with faster and quieter site work with less construction waste. These products are also a part of the solution to reduce the footprint of the embodied carbon in buildings. David and Steven will provide an overview of the shift in the construction industry with respect to engineering analysis for structural design for gravity, wind, and earthquakes and the fire safety requirements citing many recent examples from Canada and the United States.
Meet the Speakers!
David Moses, PhD, PEng, PE, LEED®A
Founder, Wood WORKS! Ontario
David is the founder of Moses Structural Engineers, a Toronto-based firm whose core purpose is to have a "Lasting Impact" on our cities and communities. David was born in Ottawa, went to Queen's University for undergraduate and Master degrees then left to Vancouver to pursue a PhD in timber engineering. After 10 years of studying, working and skiing in BC, David returned to Ontario and in 2010 opened the doors to his own company. David is a recognized leader, designer, teacher, researcher, writer and invited lecturer. He has over 25 years of experience in timber engineering with structural engineering projects across Canada and the United States, including many firsts: the first Canadian and Ontario Cross-laminated timber (CLT) buildings, the first passive house in Canada.
Steven Street
Executive Director, Wood WORKS! Ontario
Steven has spent the over 20 years developing domestic markets for wood products driving change and expanding the acceptance of wood structural systems in Canada. Throughout his career he has been around the best and brightest minds in engineering, architecture, and fabrication, an advantage that has allowed him to explore his passion for good design. In his current role as Executive Director at WoodWORKS! Ontario, Steven manages a dynamic team of wood advocates to promote and drive knowledge transfer in the construction market. Prior to his current role, Steven worked at Moses Structural Engineers managing business development. Steven is active on RESCON's technical council assisting in fast-tracking the workforce and skills needed to build a low-carbon Ontario.