Upcoming Events
Dec 15 2020
Online Learning /
Lived Experiences in Architecture
1:00 PM - 2:00 PM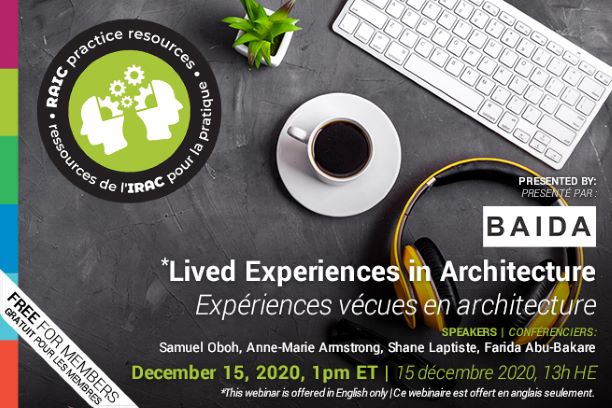 The RAIC, in partnership with the Black Architects and Interior Designers Association (BAIDA), is pleased to present Lived Experiences in Architecture – a virtual panel discussion and live Q+A showcasing members of the BAIDA Executive Committee and their respective journeys in architecture. Join Samuel Oboh, FRAIC, Anne-Marie Armstrong, Shane Laptiste, MRAIC, and Farida Abu-Bakare as they explore their lived experiences of navigating academic and professional careers in architecture in Canada and internationally.
Black Architects and Interior Designers Association (BAIDA) is a non-profit organization made up of over 100 students, planners, interior designers, and architects. BAIDA aims to support diversity, equity and inclusion in the profession of architecture and interior design. By encouraging our communities to engage in initiatives focused on advocacy, mentorship, networking, and outreach, we can begin to address the issues of inequitable outcomes and a lack of diversity within the architecture and design industry.

BAIDA Speaker Spotlight
Farida Abu-Bakare is a licensed Senior Project Architect at the award-winning architecture and design firm Adjaye Associates. Farida has lived and worked throughout Canada and the United States to build an extensive portfolio including workplace, corporate headquarters, healthcare, higher education, aviation, justice, science and advanced technology projects.
Farida believes architecture and design are tools to support and empower the communities she lives and works within and is the emeritus Community Affairs Director of Atlanta's NOMA Chapter (National Organization of Minority Architects) whose mission is to champion diversity within the design professions. Her work with NOMA led her to found and chair BAIDA (Black Architects and Interior Designers Association) which promotes diversity, equity and inclusion in the profession of architecture and interior design in Canada.
Anne-Marie Armstrong is an architect and educator. She is a co-founder and principal of architecture and design practice, AAmp Studio, and an Assistant Professor, Teaching Stream at University of Toronto's Daniels Faculty of Architecture, Landscape and Design. Anne-Marie is also a founding member of BAIDA (Black Architecture and Interior Designer's Association) where she focuses on mentorship and education within the organization. Anne-Marie holds an M.ARCH from Yale University, where she studied on a Fulbright Scholarship and an HBAS from the University of Waterloo. She is a registered architect in California, Ontario and Maine.
Shane Laptiste, MRAIC, a licensed architect in Ontario and Alberta, is the founder and principal of SOCA, the Studio of Contemporary Architecture based in Toronto. Shane holds BSc(Arch) and M.ARCH degrees from McGill University and currently serves as an architecture studio instructor at Athabasca University. As a founder of Black Architects + Interior Designers Association, he supports equity and inclusion in design professions. Through a design process emphasizing environmentally and socially sustainable spaces, he strives to create resilient communities.
Sam Oboh, FAIA, FRAIC, is a distinguished Fellow of the American Institute of Architects, and the 2015 President of the Royal Architectural Institute of Canada (RAIC), as well as an accomplished architect who has successfully designed and managed several projects in Canada and internationally – including the multi-billion-dollar Alberta Legislature Centre Redevelopment Project. He is a former Vice President – Architecture at a Fortune 500 Company and recipient of several awards and recognitions including the 2016 Excellence Magazine Award for Leadership. Named as one of the 150 Extraordinary Canadians (in commemoration of the sesquicentennial of Canadian Confederation) Sam is licensed as an Architect in the State of Texas – USA, Alberta, Ontario, Manitoba, and British Columbia. As a Principal | Vice President at Ensight+ Architecture, Sam leverages his unique expertise to enhance people's quality of life (through creative design intelligence). He is an enthusiast of philately, art collection and international development. As an adjunct lecturer / visiting studio critic role with various universities around the world, and as the Honorary Consul for the Republic of Botswana in Canada and a member of the Council of Regional Representatives of the American Institute of Architects College of Fellow, Sam serves the profession and community in various capacities. His varied background has enabled him to bring a valuable perspective to his role as an architect – inspiring passion for innovation, sustainability and stewardship excellence around the world.
Registration closes on Monday, December 14, 2020 at 4:00 p.m.
Price:
This session is free for Regular RAIC Members.
The cost for Interns and Retired RAIC Members is $5.00, plus applicable taxes.
The cost for non-members is $15.00, plus applicable taxes.