Upcoming Events
DesignTO | Weaving the Light (Window Installation)
Exhibit Talk: 5:00 PM - 6:00 PM, July 27th, 2022
Textile Museum of Canada
55 Centre Avenue, Toronto, ON
Explore the intersection of traditional, vanishing skills and hi-tech materials with the 'Weaving the Light' collection from D.A.R. Proyectos. The Peruvian-based design studio will be presenting a light installation, handwoven in a crochet technique from the Andes, integrating transparent plastic electroluminescent wire to shape a glowing textile object.
By approaching the technology as a foundational element of the textile itself, D.A.R. has designed a fully glowing object that is seamlessly assembled. Moving the concept from wearable fashion-technology into home décor, the Andean crochet technique has proven to be an ideal method to harness the characteristics of a circuit. The luminous fabric is striking as it elevates the materials, and is delightfully simple as the vacant form defies the expectation that a lamp should integrate many components. The soft glow of the lamp contrasts the beauty of the hand-work, redefining the value of this traditional technique.
D.A.R. Proyectos work with craft communities involves the goal of cultural preservation, a dynamic process that involves several layers beyond the craft itself. Social empowerment, reimagining how to manufacture objects, refreshing existing knowledge, and design innovation are all part of the pursuit to create sustainable well-designed objects.
View the 'Weaving the Light' installation at the ground floor window of the Museum and take a closer look at their design process with the hands-on display at the Textile Learning Hub from July 20 to September 4, 2022.
This installation is part of the DesignTO Festival.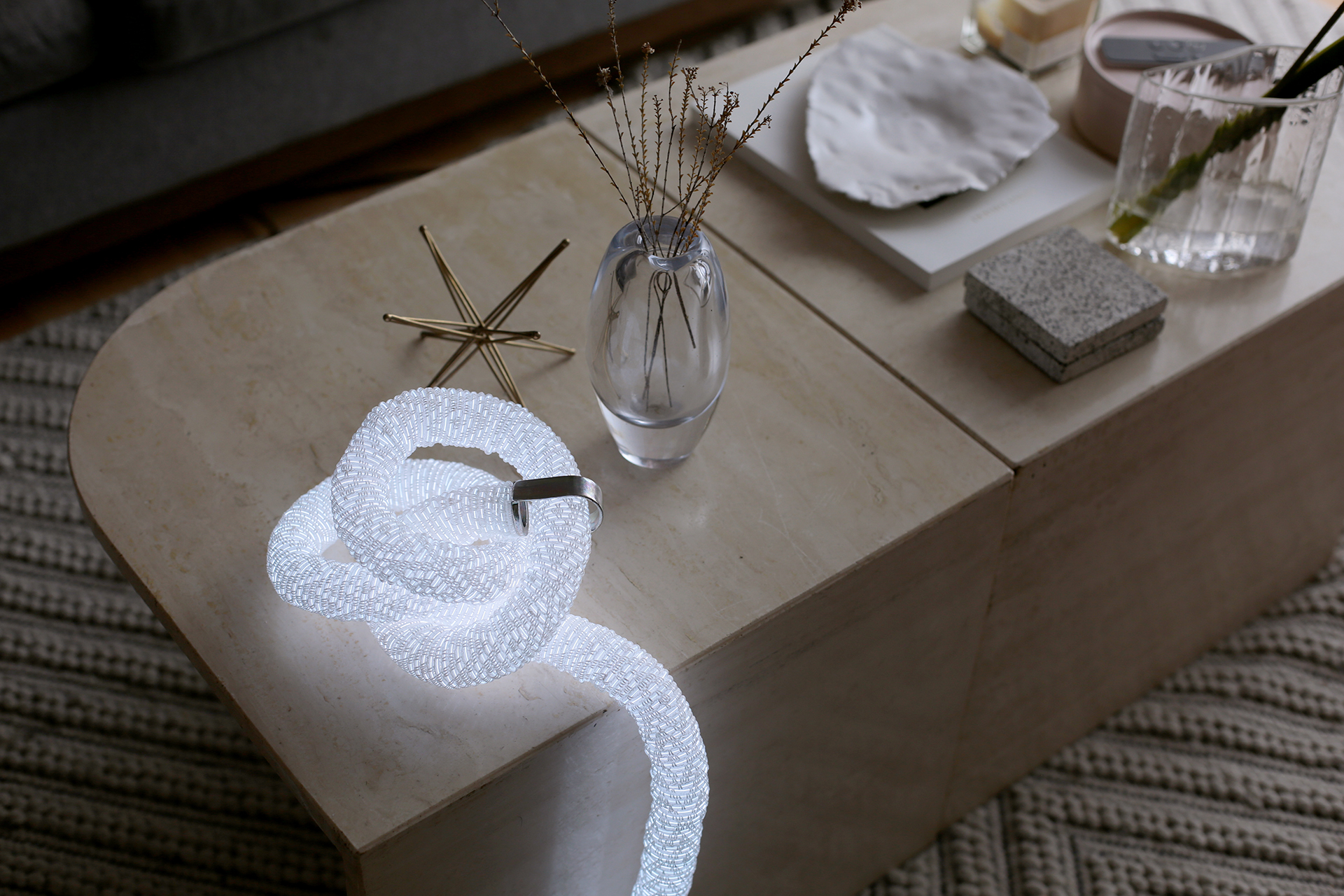 Weaving the Light – handwoven snake lamp on table.
__________________________________________________________________________
Exhibit Talk: An Afternoon with D. A. R. Proyectos
On July 27 from 5:00 PM – 6:00 PM, join the Museum for a conversation with Jenny Boucher and Mauricio Navarro of the Peruvian design studio D.A.R. Proyectos as they talk about their process in developing and designing Weaving the Light, a lighting collection that explores the intersection of vanishing, traditional Andean skills and high-tech materials.
Weaving the Light team.