Upcoming Events
Building Inclusive Cities Symposium
5:00 PM - 7:00 PM
Learning Hub, Faculty of Information, 4th floor, Claude T. Bissel Building , 140 St George Street, Accessible entrance via Sussex Street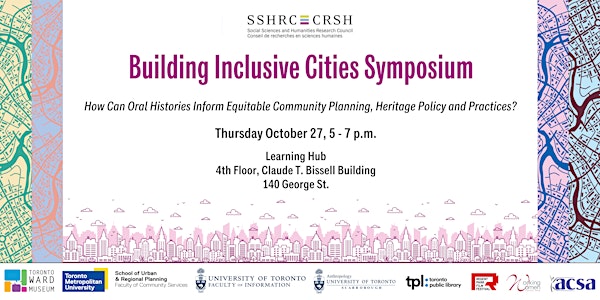 BUILDING INCLUSIVE CITIES is a symposium that centres the Block by Block Exhibition to explore how community-engaged research processes and oral history methodologies can inform equitable city-building and heritage practices in the future.
Our panel features leading thinkers and professionals in urban planning, public policy, migration and settlement, and the museum and heritage sector:
Angela Koh – Community & Youth Development Specialist, West Neighbourhood House
Dr. Gary Miedema – Project Manager – Toronto Heritage Survey, Heritage Planning/Urban Design/City Planning, City of Toronto
Sonia Mrva – Manager of Museums at Toronto History Museums
Bryan Peart – Golden Mile Coordinator, Working Women Community Centre
Dr. Thy Phu – Professor of Media Studies, Department of Arts, Culture, and Media, University of Toronto Scarborough
In the face of rapid redevelopment, who gets to tell the stories, document the histories, and shape the future of Toronto's migrant neighbourhoods? What are the opportunities, challenges, and implications of using oral histories as a form of knowledge sharing for professional practice and the policymaking process? How can neighbourhoods transform while honouring the migration history, cultural networks, and forms of resistance found in its past and present?
Join us for the symposium as this is an opportunity for city-building professionals, policymakers, students, researchers, and broader communities to learn about the changing landscape of immigrant neighbourhoods, the specific challenges marginalized communities face, and the planning and engagement strategies that work best for these communities.
We hope to see you at the Symposium,
Building Inclusive Cities Team (funded by SSHRC Connection Grant)
Dr. Zhixi Zhuang, Associate Professor, School of Urban and Regional Planning, Toronto Metropolitan University
Dr. Maggie Hutcheson, Program Director, Toronto Ward Museum
Brannavy Jeyasundaram, Co-Executive Director, Toronto Ward Museum
Dr. Irina D. Mihalache, Associate Professor, Faculty of Information, University of Toronto
Dr. Lena Mortensen, Associate Professor, Dept. of Anthropology, University of Toronto Scarborough
And collaborators:
Agincourt Community Services Association
Regent Park Film Festival
Toronto Public Library
Working Women Community Centre, Victoria Park Hub
Symposium by Building Inclusive Cities Project Team (funded by SSHRC Connection Grant)