Upcoming Events
BEAT Talk with Dubbeldam Architecture + Design
6:30 PM - 8:30 PM
DUBBELDAM Inc Architecture + Design
142 Westmount Avenue
2nd Floor
Toronto, ON M6H 3K4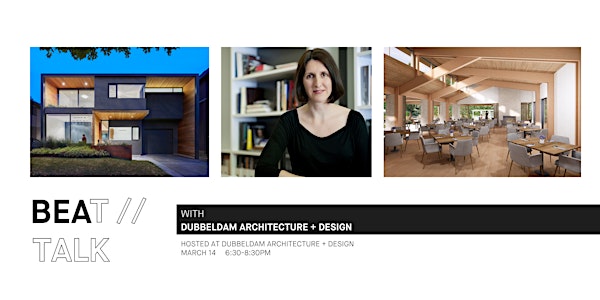 Join us as Heather Dubbeldam shares lessons learned from her varied career and the challenges of managing a practice while balancing parenthood, research and advocacy work. Heather will discuss her multi-disciplinary practice and what opportunities this has provided, how her practice evolved, and the impact her Prix de Rome research had on the trajectory of her firm's work, interests, and values. She will highlight some of the practice's recent work, including research on sustainable and livable missing middle and multi-unit housing.
About Dubbeldam Architecture + Design
Dubbeldam Architecture + Design is a multidisciplinary design studio in Toronto with a reputation for creating innovative, beautifully-crafted, and environmentally responsible design solutions. Founded by Heather Dubbeldam, the studio is known for sustainable architecture, interiors and landscapes that enrich the human experience. The studio's portfolio includes a diverse range of projects in many sectors including workspaces, hospitality, mixed-use, and residential, as well as landscape design and architectural installations. Recipient of over 80 awards, including the Professional Prix de Rome in Architecture, the studio's projects have also been widely published.
About Heather Dubbeldam
Heather Dubbeldam (OAA, FRAIC, LEED AP, WELL AP) is a fourth-generation architect and the principal of Dubbeldam Architecture + Design, an award-winning studio committed to creating thoughtful projects that embody sustainable approaches. Through her practice and ongoing research in both Canada and Scandinavia, Heather has become an advocate for more progressive design and planning that exemplifies best practices in social and environmental sustainability, climate-positive developments, and urban resilience. She is regularly invited to speak as a thought leader on the subject at schools of architecture, industry events and national conferences.
Heather is known for her advocacy and leadership in the profession, elevating others, especially the younger generation of designers. She is involved with many volunteer boards including as the Advisory Board Chair for BEAT, and the Director of Twenty + Change, a national organization dedicated to disseminating the innovative ideas of the next generation of Canadian architects. Heather regularly participates in panel discussions, on professional and award juries, and as a guest critic at schools of architecture across Canada. She is the editor and co-author of several architecture publications.
Event Schedule
6:30 pm Doors open
7:00-8:00 pm BEAT Talk
8:00-8:30 pm Networking reception
Location
Dubbeldam Architecture + Design, 142 Westmount Ave, 2nd Floor*, Toronto, ON M6H 3K4
*Stair access only to second floor.
Please sign up manually at the door upon arrival.
We encourage everyone to wear a face covering. Please be advised that covid protocols may change.
BEAT is a volunteer-run organization made up of architects, designers, leaders, and entrepreneurs creating opportunities for community-building, advocacy, networking, and mentorship.
BEAT Talks are a series of discussions held at the offices of Architects across the city. Hosts will share their learned experience.
BEAT Talks qualify for OAA Structured Learning hours
About the session
This talk qualifies for 1 OAA Structured Learning hour.
This session will be held in-person at Dubbeldam Architecture + Design.